---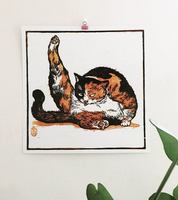 Arrogant Cat Poster

Sizes:
12x12in

Posters are digital printed on paper, thick & Matte paper. Perfect to frame it and hang on wall, or just pin/tape on wall.

By Horse Fiddle Press Artist:
Sustai Ulanbaagen ( sustaiart.com)

All posters are now on sale for buy two get one free!! :D

If you want to purchase our posters with the deal, please leave a message with the extra poster you want when you purchase two posters together :)
Ship with a cardboard tube.

Facebook & Instagram : @HorseFiddlePress

Shipping time:
US&Canada: 3-10 business days depends on the distance from Toronto
Europe: 2-4 weeks
Others: 4-6weeks